Keeping a close eye on European trends
Having worked with a number of European and Perth-based kitchen brands, Kordula Stuart brings a wealth of experience to the Joyce Kitchens design team.
During her 16 years in the industry, she's designed for hundreds of apartments and residences and has watched how kitchen trends filter from Europe to Perth. She prides herself on staying across latest design options and styles.
'Europe is always a step ahead in kitchen design, the factories I have worked with in Germany are producing thousands of high-quality kitchens every day,' she said.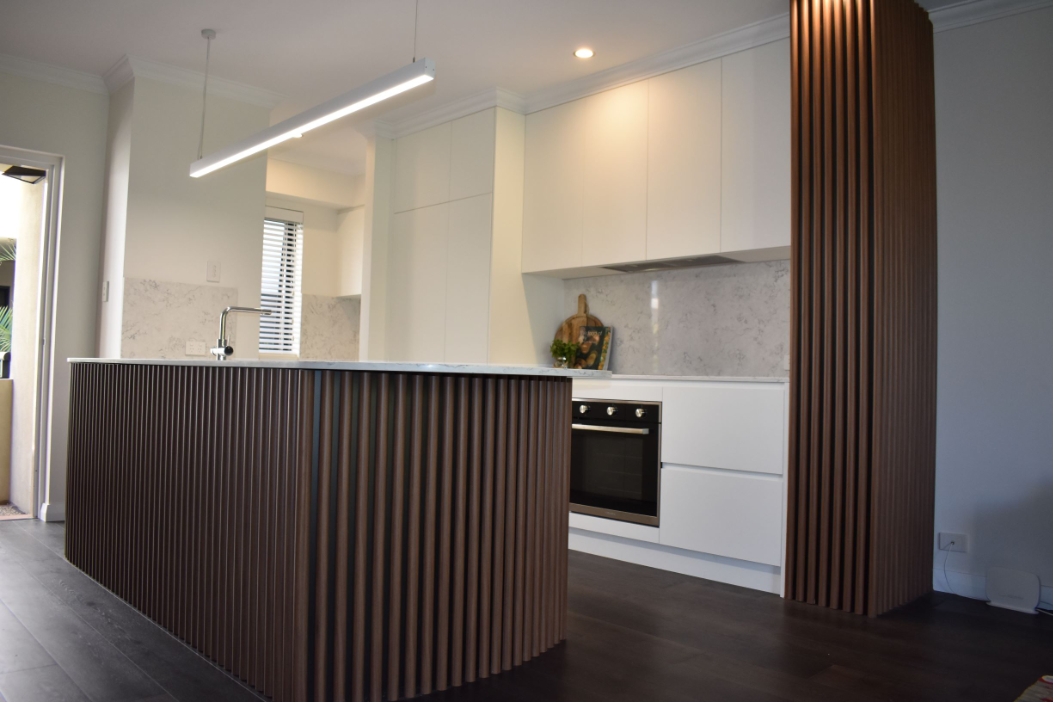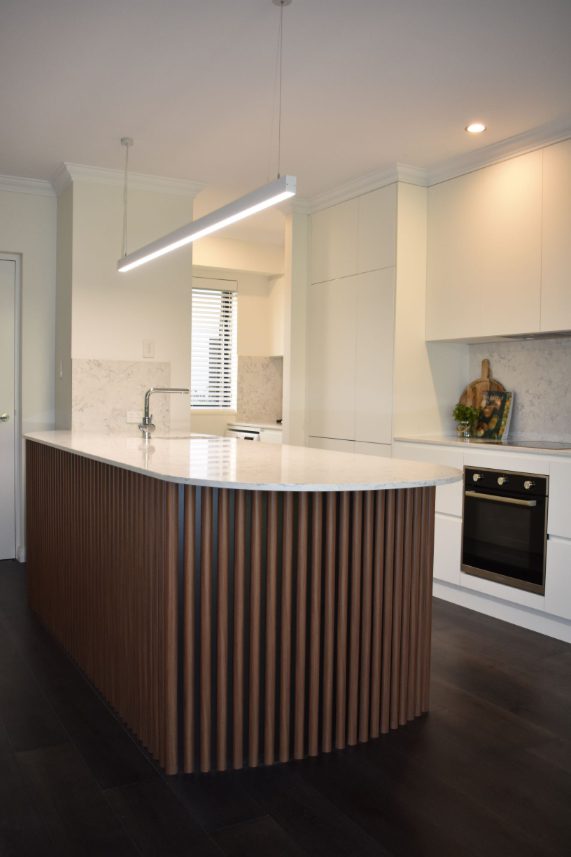 'That's why I joined Joyce Kitchens, it's known for quality and unique custom builds and I think that Joyce is extremely competitive when it comes to sourcing high quality cabinetry in Perth'.
Kordula, who has won a Kitchen Bathroom Design Institute award for Large Kitchen Design, is more than happy to be put to the test in her role. She recalls designing a Cottesloe renovation, including an island bench that resembled the form of a surfboard.
'This project consisted of two kitchens, bathrooms, powder rooms and laundries over two levels,' she said.
'Both kitchens were fitted out with high-spec Siemens fully-integrated appliances, induction cooking and all the latest gadgetry – but they were totally different in their design.
'The upstairs apartment had breathtaking views over the Indian ocean and had to have an island designed with the form of a surfboard. This was a little difficult at first but turned out to be a fun challenge that finished with an amazing kitchen. The doors were an acrylic finish, benchtops were Corian and the splashback, Caesarstone cross cut agate. It was the first of this kind in WA.
'The project was enjoyable because of the client's good nature, genuine personality and quirky sense of humour – I am proud to say he is still a dear friend of mine.'
And those relationships are why Kordula enjoys working with her clients throughout the design and build process. She remains open to any challenge from customers of Joyce Kitchens.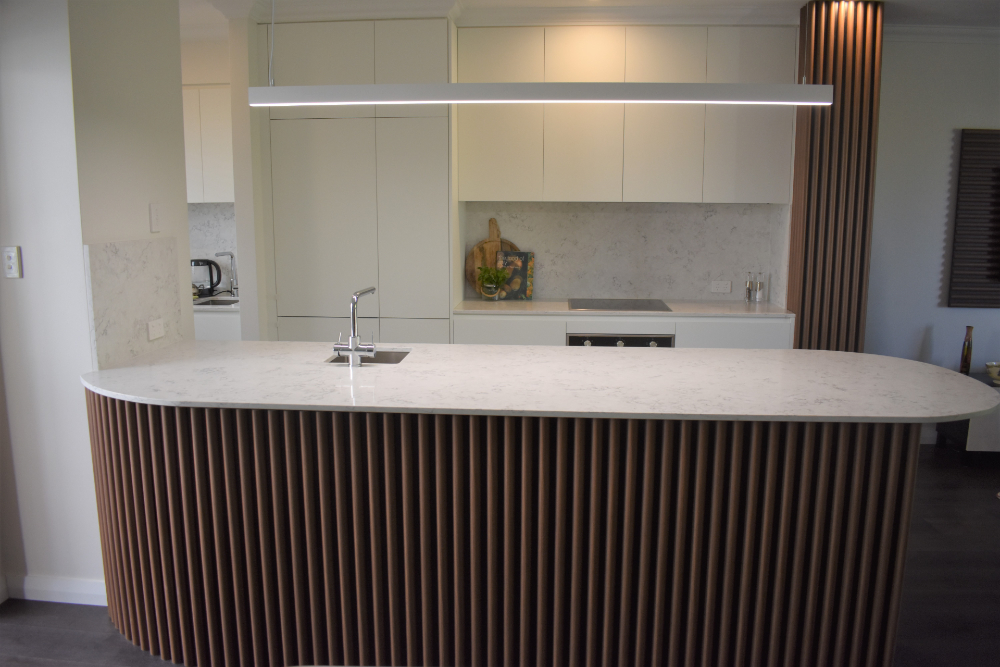 ''I find that you build strong relationships with your clients and I've loved how many of them have kept in touch many years after their renovation project was completed.''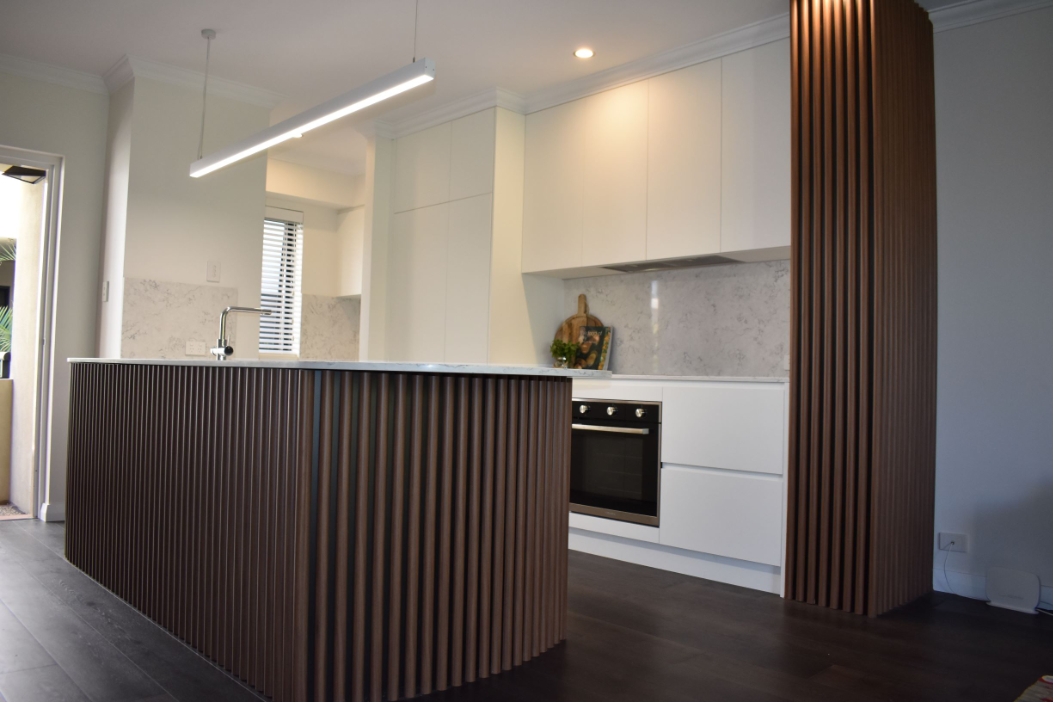 'I like to get more adventurous and build in more technology,' she said. 'With a custom-made kitchen you can be flexible in shape and size, which is a great advantage.'
Her favourite kitchen design trend currently is elegant minimalist styling with dark-coloured handleless cabinetry.
She appreciates built-in appliances and likes to design mechanisms into the cabinetry that make living in the space easier.
Outside of work Kordula enjoys time with her husband and two daughters,
she enjoys sailing, reading, travelling and has begun volunteering with Ronald McDonald House Charities.