'Normally, after meeting with customers and discussing design concepts and ideas, we'll measure up, spend several days drafting detailed 3D plans and then we'll get back together for a full design presentation. Working on House Rules 2020 there was no time for that. Our factory and installation team were on the job committed to the same goals and somehow we were able to turn around exceptional Joyce Kitchens' high-quality custom cabinetry at lightning speed.'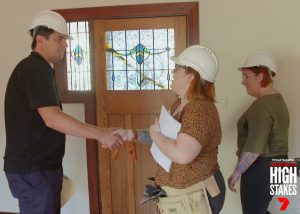 Led by one of Joyce Kitchens' nine senior designers, Simon Cox, the House Rules 2020 teams were guided through the design, build and installation of the kitchen, pantry, mudroom and laundry as well as other cabinetry including a luxurious main bedroom walk-in-robe, two bedrooms (one with a tailor-made double bunk bed), wardrobes and a hallway cupboard.
'It was already a solid, large and beautiful home, but it was 1980s dated and tired and needed overall modernisation,' Simon said.
'I was in the middle – between what the contestants wanted to achieve … their concepts – and what could be built in the extremely tight timeframe we had'.
'All of the contestants were lovely people, fantastic to work with and I could see why they were each chosen for the show with their diverse characters and talents'.
'Personally, while I'm probably not one to be the centre of attention, I thought it would be good for the company and good for my career too. I had no idea what to expect, but I refused to get nervous, or to think about the cameras and filming. I concentrated on being totally professional and just getting on with it!'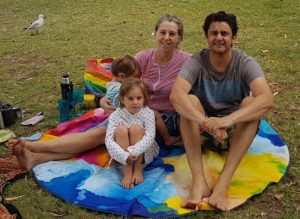 Simon Cox was on site all week for long hours each day. With the Joyce Kitchens check measurers and cabinetmakers, he needed to overcome a host of challenges around ceiling heights, existing architraves and service ducts, stairs, team turf boundary issues and budget constraints.
'It was incredibly challenging – I did everything I possibly could to help, including unloading trucks, rushing to the airport to pick up some specially flown in brass door and drawer knobs for the kitchen, while also liaising with the stonemason and other tradies to make sure it all came together,' he said. 'It was all hands on deck.'
The home owners, Tanya and Dave, set five rules to guide the teams who would be renovating their home. The House Rules were:
Give us a natural, coastal, family home
Storage solutions for the whole family
Layer and texture with rattan and cane
Deliver with refined use of whites and dusty tones
We'd love a break from the kids upstairs
Tanya and Dave and their children only got to see the renovations once completed before House Rules judges Laurence Llewelyn-Bowen, Kyly Clarke and Saul Myers rated the teams on their rooms.
While Joyce Kitchens' Simon Cox immersed himself in the project, his wife, environmental consultant, Jill, held the fort at their home in Carine caring for their four year-old daughter Hazel and 2 year-old son Heath.
'I didn't see much of them during House Rules week, that's for sure,' he said. 'I'm grateful for Jill's support, which meant I could take on a challenge like this.'
Simon is from county Rutland in Leicestershire, in the UK. His father was a plumber and his mother was a multi-lingual translator.
Pursuing a mix of trade and arts, Simon attained a degree in 3D design, specialising in furniture in Loughborough before co-founding a business building bespoke high-end cabinetry, furniture and furnishings for residences, bars, restaurants and night venues.
Simon came to WA as a backpacker in 1998, seeking wind and waves in his pursuit of his passion for kite surfing. He first joined Joyce Kitchens in 1999.
'I love what I do. It's just so rewarding when the design is perfect for the individual home and those who live in it, a high-quality job is done and the customer is really happy,' Simon said.
'Tanya and Dave have personally contacted us to thank us because they're absolutely thrilled with their new kitchen, laundry, robes – the whole renovation – and Joyce Kitchens' cabinetry is integral to almost every room.'
Joyce Kitchens thanks Senior Designer Simon Cox, check measure and schedulers Paul Underwood and Simon Bartholomew and the entire O'Connor-based factory and install team for their incredible commitment to this project.


Joyce Kitchens Cabinetry on House Rules High Stakes 2020 Perth Renovation
Joyce Kitchens Cabinetry on House Rules High Stakes 2020 Perth Renovation
Joyce Kitchens Cabinetry on House Rules High Stakes 2020 Perth Renovation
Joyce Kitchens Cabinetry on House Rules High Stakes 2020 Perth Renovation
Joyce Kitchens Cabinetry on House Rules High Stakes 2020 Perth Renovation
Joyce Kitchens Cabinetry on House Rules High Stakes 2020 Perth Renovation
Joyce Kitchens Cabinetry on House Rules High Stakes 2020 Perth Renovation
Joyce Kitchens Cabinetry on House Rules High Stakes 2020 Perth Renovation
Joyce Kitchens Cabinetry on House Rules High Stakes 2020 Perth Renovation
Joyce Kitchens Cabinetry on House Rules High Stakes 2020 Perth Renovation